Main dish, vegetarian
Black Beans & Corn with Poached Eggs
Overview
This sweet-and-spicy black bean and corn skillet dish is finished with a sprinkling of queso fresco, a Mexican cheese that is salty, crumbly, and perfectly meltable.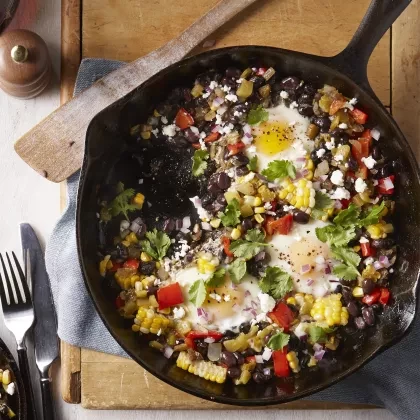 Prep time 20
Cook Time 10
Total Time 30
Nutritional Information
Calories 284kcal
Carbohydrates 26g
Fat 14g
Saturated Fat 3g
Protein 14g
Cholesterol 189mg
Dietary Fiber 7g
Potassium 519mg
Sodium 569mg
Total sugars 4g
Instructions
STEP 1 Heat oil in a 10-inch skillet over medium heat. Add onion, bell pepper, corn, garlic, jalapeño, cumin, and oregano. Cook, stirring often, until the onions are translucent and the spices are fragrant, about 5 minutes. Stir in beans, chiles, vinegar, and salt; cook, stirring, for 2 minutes.
STEP 2 Use a spoon to make 4 indentations in the bean mixture. Crack an egg into each indentation. Cover and cook until the whites are set but yolks are still runny, 4 to 6 minutes (or until desired doneness).
STEP 3 Sprinkle with cilantro, queso fresco (or feta), and red onion and serve.
© Meredith Operations Corporation. All rights reserved. Used with permission.
Ingredients
2 tablespoons olive oil
1 medium onion , diced
1 red bell pepper , diced
½ cup corn kernels (frozen or fresh)
4 cloves garlic , chopped
½ jalapeño pepper , seeded and minced
1 teaspoon ground cumin
1 teaspoon dried oregano
1 15-ounce can low-sodium black beans , rinsed
1 4-ounce can chopped green chiles
1 teaspoon red-wine vinegar
½ teaspoon salt
4 large eggs
¼ cup chopped fresh cilantro
2 tablespoons crumbled queso fresco or feta cheese
2 tablespoons minced red onion