Main dish, vegetarian
Black Bean Tostadas
Overview
Keep this recipe on hand for when you are in need of a quick weeknight dinner. It's done, start to finish, in only 20 minutes.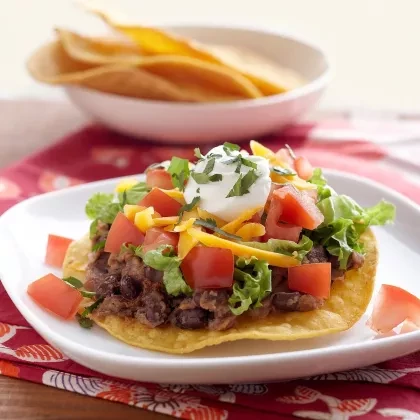 Prep time 20
Cook Time 20
Total Time 40
Nutritional Information
Calories 218kcal
Added sugars 2g
Carbohydrates 22g
Fat 9g
Saturated Fat 2g
Monounsaturated Fat 0g
Protein 14g
Cholesterol 5mg
Dietary Fiber 9g
Potassium 181mg
Sodium 253mg
Total sugars 2g
Instructions
STEP 1 In a medium bowl, use a potato masher to coarsely mash together black beans, refried beans, cumin and chili powder. Spread the mixture over tostada shells. Sprinkle with lettuce, tomatoes and cheese. Spoon on sour cream and sprinkle with cilantro.
© Meredith Corporation. All rights reserved. Used with permission.
Ingredients
1 16 oz can no-salt-added black beans, rinsed and drained
1/2 cup canned fat-free refried beans
1/2 teaspoon ground cumin
1/2 teaspoon chili powder
4 corn tostada shells
3/4 cup diced tomatoes
1/4 cup shredded reduced-fat Cheddar cheese
2 tablespoons snipped fresh cilantro