Main dish, combination meal
Beef & Bean Chile Verde
Overview
Chile Verde, usually a slow-cooked stew of pork, jalapeños and tomatillos, becomes an easy weeknight meal with quick-cooking ground beef and store-bought green salsa. Make it a Meal: Serve with fresh cilantro, red onion and Monterey Jack. Add your favorite hot sauce.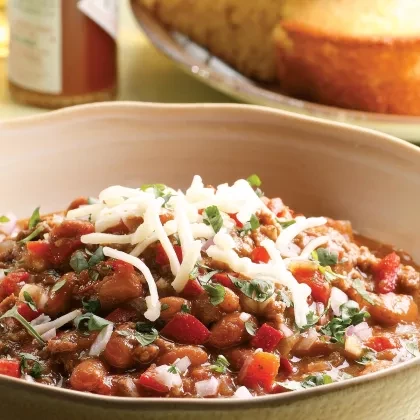 Prep time 20
Cook Time 10
Total Time 30
Nutritional Information
Makes: 4 Servings
Serving size: 1 1/2 cups
Calories 309kcal
Added sugars 0g
Carbohydrates 29g
Fat 8g
Saturated Fat 3g
Monounsaturated Fat 3g
Protein 27g
Cholesterol 64mg
Dietary Fiber 6g
Potassium 641mg
Sodium 516mg
Total sugars 8g
Instructions
STEP 1 Cook beef, bell pepper and onion in a large saucepan over medium heat, crumbling the meat with a wooden spoon, until the meat is browned, 8 to 10 minutes. Add garlic, chili powder, cumin and cayenne; cook until fragrant, about 15 seconds. Stir in salsa (or sauce) and water; bring to a simmer. Reduce heat to medium-low, cover and cook, stirring occasionally, until the vegetables are tender, 10 to 15 minutes. Stir in beans and cook until heated through, about 1 minute.
© Meredith Corporation. All rights reserved. Used with permission.
Ingredients
1 pound 93%-lean ground beef
1 large red bell pepper , chopped
1 large onion , chopped
6 cloves garlic , chopped
1 tablespoon chili powder
2 teaspoons ground cumin
¼ teaspoon cayenne pepper , or to taste
1 16-ounce jar green salsa , green enchilada sauce or taco sauce
¼ cup water
1 15-ounce can pinto or kidney beans , rinsed