Side dish, vegetable
Air-Fryer Sweet Potato Chips
Overview
Thinly sliced sweet potatoes fry to a crispy crunch in the air fryer. These homemade chips also use much less oil, which cuts down on calories and fat. They're a naturally sweet side for sandwiches, burgers, wraps and more.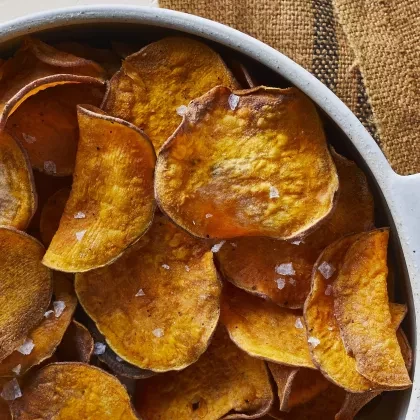 Prep time 5
Cook Time 55
Total Time 60
Nutritional Information
Calories 31kcal
Added sugars 0g
Carbohydrates 4g
Fat 2g
Saturated Fat 0g
Monounsaturated Fat 1g
Protein 0g
Cholesterol 0mg
Dietary Fiber 1g
Potassium 83mg
Sodium 79mg
Total sugars 1g
Instructions
STEP 1 Place sweet potato slices in a large bowl of cold water; soak for 20 minutes. Drain and pat dry with paper towels.
STEP 2 Return the sweet potatoes to the dried bowl. Add oil, salt and pepper; toss gently to coat.
STEP 3 Lightly coat air-fryer basket with cooking spray. Place just enough of the sweet potatoes in the basket to form a single layer. Cook at 350°F until cooked through and crispy, about 15 minutes, flipping and rearranging into a single layer every 5 minutes. Using tongs, carefully remove the chips from the air fryer to a plate. Repeat with the remaining sweet potatoes.
STEP 4 Let the chips cool for 5 minutes; serve immediately or cool completely and store in an airtight plastic container for up to 3 days.
© Meredith Operations Corporation. All rights reserved. Used with permission.
Ingredients
1 medium sweet potato (about 8 ounces) , sliced into ⅛-inch-thick rounds
1 tablespoon canola oil
¼ teaspoon sea salt
¼ teaspoon ground pepper