Main dish, vegetarian
Air-Fryer Falafel
Overview
Making falafel in the air fryer is practically foolproof. Just combine all your ingredients in a food processor, form into patties and drop in the air fryer. The countertop appliance is like a mini convection oven, so the falafel will cook up quickly and with way less oil than if you pan-fried them.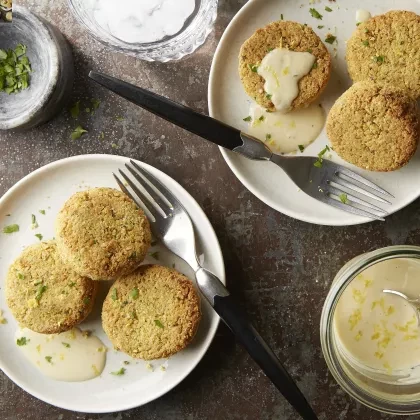 Prep time 25
Cook Time 20
Total Time 45
Nutritional Information
Calories 216kcal
Added sugars 0g
Carbohydrates 31g
Fat 7g
Saturated Fat 1g
Monounsaturated Fat 3g
Protein 10g
Cholesterol 0mg
Dietary Fiber 9g
Potassium 367mg
Sodium 384mg
Total sugars 6g
Instructions
STEP 1 Drain chickpeas and transfer to a food processor. Add parsley, onion, garlic, oil, lemon juice, cumin, salt and baking soda; process, adding water as needed, until finely ground and the mixture just holds together. Using about 3 tablespoons per patty, shape into twelve 1½-inch patties.
STEP 2 Lightly coat air-fryer basket with cooking spray. Place the patties in a single layer in the basket and coat the tops with more cooking spray. (Depending on the size of your air fryer, you may have to cook in batches.)
STEP 3 Cook the patties at 375°F, carefully them turning over halfway through and coating the tops with more cooking spray, about 12 minutes total.
© Meredith Operations Corporation. All rights reserved. Used with permission.
Ingredients
1 cup dried chickpeas , soaked overnight
½ cup packed fresh flat-leaf parsley
¼ cup chopped onion
2 medium cloves garlic
1 tablespoon extra-virgin olive oil
1 tablespoon lemon juice
1 tablespoon ground cumin
½ teaspoon salt
¼ teaspoon baking soda
3 tablespoons water , if needed