Side dish, potato/starch
Air-Fryer Broccoli & Cheese Baked Potatoes
Overview
This side dish gives you the best of two potato favorites. Tender baked potato halves are topped with a creamy Cheddar cheese and broccoli filling, then they're air-fried to create crispy skins. Air fryers require a lot less oil than deep fryers, which leaves room for an extra sprinkle of cheese.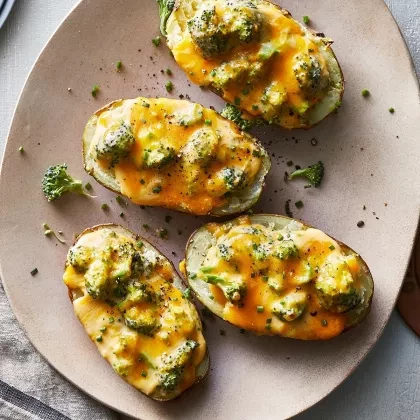 Prep time 10
Cook Time 20
Total Time 30
Nutritional Information
Calories 137kcal
Added sugars 0g
Carbohydrates 22g
Fat 3g
Saturated Fat 2g
Monounsaturated Fat 1g
Protein 5g
Cholesterol 9mg
Dietary Fiber 2g
Potassium 556mg
Sodium 148mg
Total sugars 3g
Instructions
STEP 1 Pierce potatoes all over with a fork. Place on a microwave-safe plate; microwave on High for 5 minutes. Flip the potatoes and microwave for another 5 minutes.
STEP 2 Meanwhile, place 3/4 cup milk in a small saucepan over medium-high heat; heat to a simmer. Whisk the remaining 1/4 cup milk and flour in a small bowl until smooth. Add the flour mixture to the pan and whisk until smooth. Bring to a boil, whisking constantly. Remove from heat. Reserve 2 tablespoons Cheddar. Stir the remaining Cheddar into the pan until blended and smooth. Stir in broccoli, salt and cayenne.
STEP 3 Cut the potatoes in half; gently mash the inside of each potato just until loose and crumbly. Layer 4 potato halves at a time in the basket of an air fryer. Top each with 1/4 cup of the broccoli mixture, then divide 1 tablespoon Cheddar among the potatoes.
STEP 4 Cook the potatoes at 350°F until the cheese is melted and the potato skins are crispy, about 5 minutes. Repeat with the remaining potatoes, broccoli mixture and Cheddar.
STEP 5 Top the potatoes with chives, if desired, and serve.
© Meredith Corporation. All rights reserved. Used with permission.
Ingredients
4 medium russet potatoes (about 6-7 ounces each)
1 cup reduced-fat milk , divided
2 tablespoons all-purpose flour
½ cup extra-sharp shredded Cheddar cheese , divided
1 cup coarsely chopped broccoli florets
¼ teaspoon kosher salt
¼ teaspoon cayenne pepper
Chopped chives for garnish