Air-Fryer Broccoli & Cheese Baked Potatoes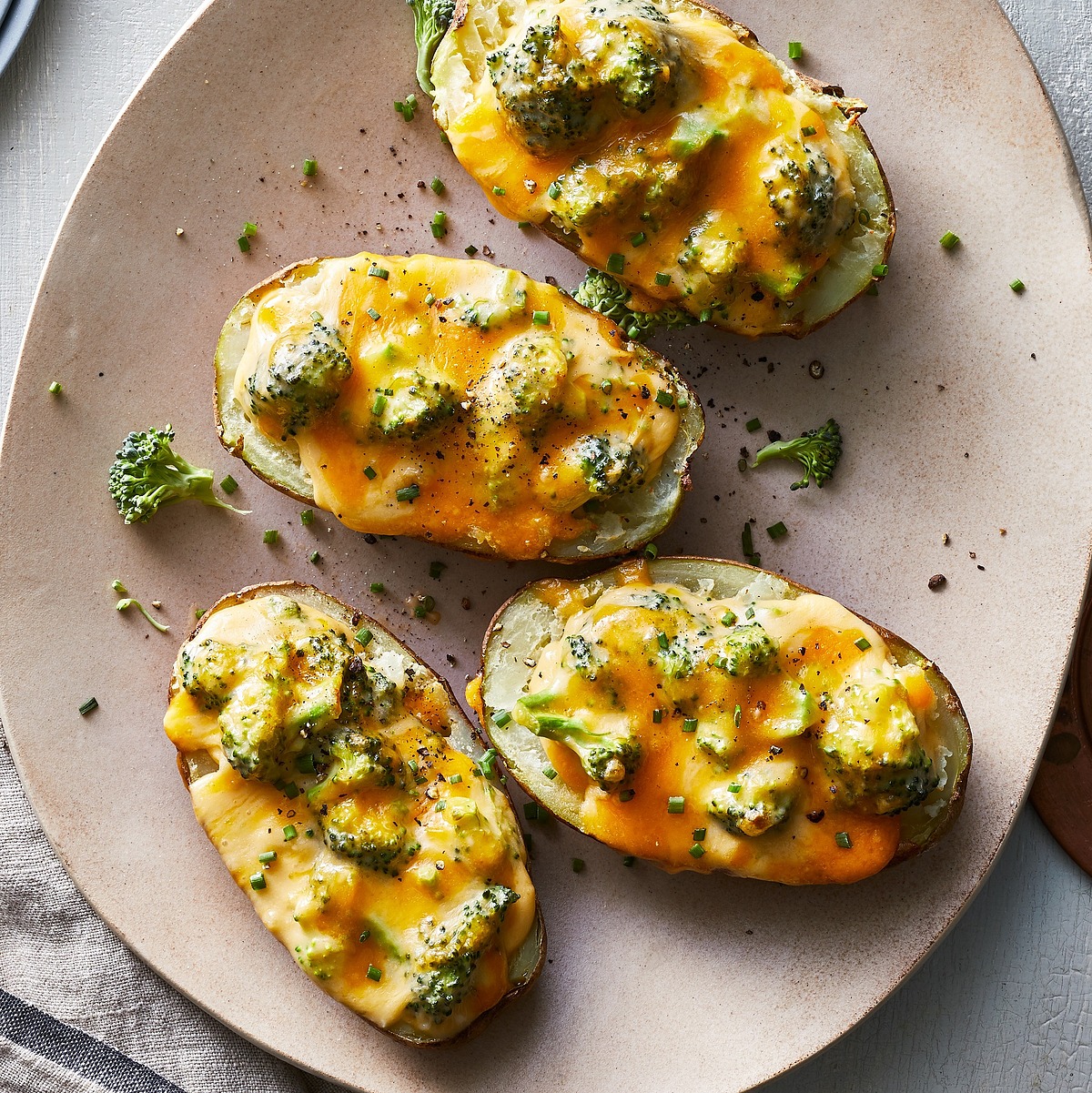 Overview
This side dish gives you the best of two potato favorites. Tender baked potato halves are topped with a creamy Cheddar cheese and broccoli filling, then they're air-fried to create crispy skins. Air fryers require a lot less oil than deep fryers, which leaves room for an extra sprinkle of cheese.
Nutritional Information
8 Servings
| | |
| --- | --- |
| Calories | 137 |
| Carbohydrates | 22g |
| Fat | 3g |
| Saturated Fat | 2g |
| Mono Fat | 1g |
| Protein | 5g |
| Cholesterol | 9mg |
| Dietary Fiber | 2g |
| Potassium | 556mg |
| Sodium | 148mg |
Ingredients
4 medium russet potatoes (about 6-7 ounces each)
1 cup reduced-fat milk , divided
2 tablespoons all-purpose flour
½ cup extra-sharp shredded Cheddar cheese , divided
1 cup coarsely chopped broccoli florets
¼ teaspoon kosher salt
¼ teaspoon cayenne pepper
Chopped chives for garnish
Instructions
Pierce potatoes all over with a fork. Place on a microwave-safe plate; microwave on High for 5 minutes. Flip the potatoes and microwave for another 5 minutes.
Meanwhile, place 3/4 cup milk in a small saucepan over medium-high heat; heat to a simmer. Whisk the remaining 1/4 cup milk and flour in a small bowl until smooth. Add the flour mixture to the pan and whisk until smooth. Bring to a boil, whisking constantly. Remove from heat. Reserve 2 tablespoons Cheddar. Stir the remaining Cheddar into the pan until blended and smooth. Stir in broccoli, salt and cayenne.
Cut the potatoes in half; gently mash the inside of each potato just until loose and crumbly. Layer 4 potato halves at a time in the basket of an air fryer. Top each with 1/4 cup of the broccoli mixture, then divide 1 tablespoon Cheddar among the potatoes.
Cook the potatoes at 350°F until the cheese is melted and the potato skins are crispy, about 5 minutes. Repeat with the remaining potatoes, broccoli mixture and Cheddar.
Top the potatoes with chives, if desired, and serve.
© Meredith Corporation. All rights reserved. Used with permission.
You also might like